RiverBlitz
San Diego River Citizen Science Surveys
---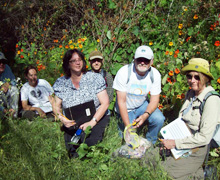 During the twice a year RiverBlitz surveys, teams of citizen scientists survey the River in the City of Santee and San Diego for invasive plants, trash and site condition issues. We also partner with other organizations and survey more remote areas less frequently. This data is made available to the public and helps us to coordinate efforts to obtain a healthy, trash-free River through our advocacy, working with landowners, managers and agencies, and our award winning volunteer-based clean-up program. The surveys also track the quantities and types of trash entering the San Diego River from the watershed.
October 2017 Survey Results:
Invasive plant and site condition map

Current Survey:
During April 2018 we are conducting the RiverBlitz survey to focus on non-native, invasive plants. Contact us to learn more at 619-297-7380.

Our River Assessment Field Team conduct surveys of smaller segements every week!
If you would like to get involved with the River Assessment Field Team (RAFT), click here to learn more.

How RiverBlitz Works:
Surveys take place on Saturdays and Sundays in April and October each year.
Teams are assigned to sections of the River each of which take about 2 -3 hours to survey. Teams are joined by a trained leader, so no experience is necessary.
Surveys record non-native plants, trash, and park problems.
Data is compiled into a State of the River Report which is available to the public.
Data guides future clean-up events, projects and other actions.

Team Leader Training for the surveys are held in March and September! Email volunteer@sandiegoriver.org to learn more and to sign up for the next training.
To learn more or to RSVP for any of our volunteer events:
Call (619) 297-7380 or email volunteer@sandiegoriver.org.

Visit our Online Information Center for additional infomation.

VOLUNTEER NOW
Help us keep the River beautiful for the next generation.
Volunteer now »

STAY INFORMED
Sign up for our Newsletter and get up to date information.
Sign up today »