The San Diego River Garden in Mission Valley
Explore and Protect River Habitat at the Garden
---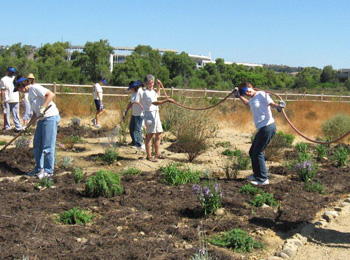 The San Diego River Garden is in Mission Valley right at the edge of the River, and it showcases native varietals and low water use plants. But don't expect only prickly succulents (although we have a beautiful collection of those too in the Octopus Garden!), this garden is sure to inspire with showy colors, fragrant blooms, and bird and butterfly attractors. You are certain to glimpse a few of the River's wildlife inhabitants here, especially birds and lizards. This garden also has a nice picnic area for visitors to relax. No potable water available, so bring your own water if you visit the garden outside of our regularly scheduled events. No restrooms available at the garden.
This site used to be a vacant area reserved for future use by the City of San Diego. But thanks to the City and the many volunteers, sponsors, groups that have come out to garden, the River Park Foundation is caring for this 5 acre area to make it attractive for the community.
How you can get involved:
Location: The approximate address of the River Garden is 3382 Camino del Rio N in Mission Valley.
The Gardening Volunteer Team meets on the second and fourth Sundays each month, from 9 – 11 am.
Activities include watering, planting, path maintenance, etc. The garden is also open for tours at this time. All tools are provided, but please wear closed-toe shoes and clothes that can get a little dirty. Sun protection and a reusable water bottle are a good idea too!
RSVPs required for volunteers: Please call (619) 297-7380 or email volunteer@sandiegoriver.org
Community service hours can be verified for those that require them.
Projects are available for your group at this site. Click here to learn more about group events.
Thank you to our partners:
The City of San Diego
Sponsorship opportunities are available starting at $500,
contact us
for more information.

FRIENDS MATTER
Become a Friend of the San Diego River Foundation and invest in the future of the River.
Learn more »

VOLUNTEER NOW
Help us keep the River beautiful for the next generation.
Volunteer now »