Healthy River, Healthy Communities
San Diego River Volunteer Stewardship Program
---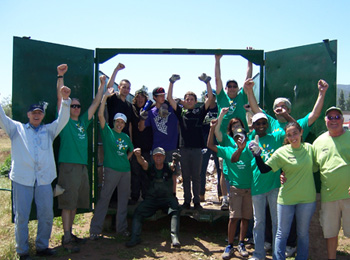 The Healthy River, Healthy Communities Program is our signature volunteer stewardship program. This program has won regional, national and international awards, including most recently the Keep America Beautiful Distinguished Service Citation, awarded in Washington DC in 2012.

Our goal is a trash-free and healthy San Diego River.
It costs $30 to provide enough heavy duty trash bags to haul out up to one ton of trash.
You can support these volunteers, with a donation today!
Just enter the dollar amount you would like to donate. Thank you!
Current Focus Area: Incorporated reach of River (cities of Santee and San Diego),

The following components fall under the umbrella of the Healthy River, Healthy Communities program:

The Clean and Green Team: Through this team, we coordinate large scale clean-ups each month based on needs identified through RiverBlitz trash data. In addition, family-friendly events are coupled with hands-on, site-specific environmental education.


RiverBlitz: Each year, we coordinate two volunteer field surveys of the River. Teams of trained volunteers document the River's condition using surveys with GPS units and cameras to map location, types, and amounts of trash, invasive species, and park amenity issues (like graffiti, broken benches or signs, etc.).


River Rescue: Teams of River Rescue volunteers support the large scale clean-ups by scouting sites prior to and following large clean-ups to make sure we get all the trash out, as well as targeting smaller trash sites that are too small or remote for large scale clean-ups. This team meets on Wednesdays from 9-noon.
River Assessment Field Team: This team is all about assessment! Along with a staff person, volunteers help scout for trash and other issues through weekly surveys on the 2nd, 3rd, and 4th Tuesday each month, marking the locations and notes on maps for future clean-up.  The team explores a new spot each week, ranging from easy paved paths to trail blazing. 




RiverWatch: Volunteer leaders for this team coordinate groups for monthly water quality testing and nutrient monitoring at sample sites along the length of the River to track the effects of clean-up efforts and identify water quality issues.

VOLUNTEER NOW
Help us keep the River beautiful for the next generation.
Volunteer now »

STAY INFORMED
Sign up for our Newsletter and get up to date information.
Sign up today »