Healthy River, Healthy Communities
Clean River Program
---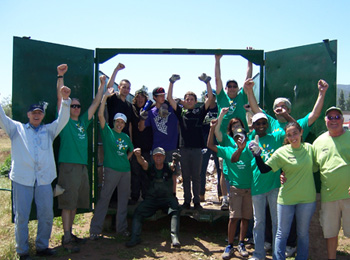 The Healthy River, Healthy Communities Program is our signature stewardship program. Through an integrated approach we have an ongoing effort to work toward a Trash-Free River. We focus on 20+ miles of the River in the cities of San Diego and Santee. We work in other areas, too.
Field surveys inform our river cleanup program which focuses on collaboration, advocacy and action!

Our goal is a trash-free and clean San Diego River.
We partner with the City of San Diego, City of Santee, other agencies and land owners and managers. Trash is terrible in so many ways.
HOW YOU CAN HELP
Volunteer

We have started opening our clean-ups to new volunteers!
It is amazing how much can get done when we pull together!

River Rescue: our small but mighty River Rescue team tackles the most challenging sites. This dedicated group is a regular volunteer opportunity. They go out 2 - 3 days per week!
Clean and Grean Events: once a month we have larger community cleanups to target larger efforts. Some of these are family friendly, too!

If you are interested in volunteering, let's talk!
Please check out our current volunteer opportunities here.

Volunteer Event Calendar

Map of Current Trash Locations

Make a Gift for a Clean River
$5 Provide a pair of gloves for a team member
$25 Provide heavy duty trash bags to remove up to 2000 lbs. of trash!
$500 Provide the supplies for one entire cleanup
$2000 Sponsor a Clean-Up - we will contact you regarding the event
Your gift of $5, $25 or more will be put to immediate use!
Sign up for the convienence of a monthly gift and become a Clean River Partner!

.
Together we can reach the goal of a clean San Diego River!
*Monthly gifts can be stopped at anytime

The following components fall under the umbrella of the Healthy River, Healthy Communities program:


The Clean and Green Team: Through this team, we coordinate large scale clean-ups each month based on needs identified through RiverBlitz trash data. In addition, family-friendly events are coupled with hands-on, site-specific environmental education.


RiverBlitz: Each year, we coordinate two volunteer field surveys of the River. Teams of trained volunteers document the River's condition using surveys. One survey focuses on mapping non-native, invasive plants and the other on trash.


River Rescue: Teams of River Rescue volunteers target smaller trash sites that are too small or remote for large scale clean-ups. This team meets twice a week and also has a smaller "strike team."
River Assessment Field Team (RAFT): This team is all about assessment! Along with a staff person, volunteers help scout for trash twice per week, recording the data in an app that we developed. Each assessment covers a different part of the River. In this way, we can document the entire focus area over several weeks.
2022
Program Impact

200,000+ POUNDS OF
TRASH REMOVED!


---
3,000,000+ lbs. has been removed since the program started


Help us work for a beautiful and healthy river for the next generation.

STAY INFORMED
Sign up for our Newsletter and get up to date information.
Sign up today »