Healthy River, Healthy Communities
Stewardship Program
---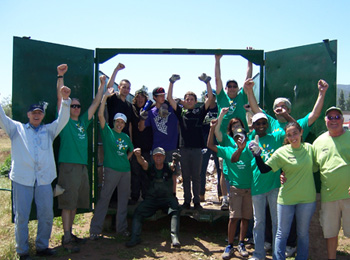 The Healthy River, Healthy Communities Program is our signature volunteer stewardship program. This program has won regional, national and international awards, including most recently the Keep America Beautiful Distinguished Service Citation, awarded in Washington DC in 2012.

Our goal is a trash-free and healthy San Diego River.
Your $25 per month donation can provide the heavy duty trash bags and other support needed by the hard working volunteers we support. $25 will buy 50 heavy duty contractor bags. That can help remove up to 2000 lbs of trash!
Click here to enter $10, $25 or another amount and make a monthly or one-time donation. You can stop a monthly donation at any time.
Join with us for a trash free river. If you are interested in volunteering, please call us at 619-297-7380 or email volunteer@sandiegoriver.org, we will let you know the details.
Current Focus Area: Incorporated reach of River (cities of Santee and San Diego),

The following components fall under the umbrella of the Healthy River, Healthy Communities program:

The Clean and Green Team: Through this team, we coordinate large scale clean-ups each month based on needs identified through RiverBlitz trash data. In addition, family-friendly events are coupled with hands-on, site-specific environmental education. This program is currently on hold due to COVID19 restrictions.


RiverBlitz: Each year, we coordinate two volunteer field surveys of the River. Teams of trained volunteers document the River's condition using surveys. One survey focuses on mapping non-native, invasive plants and the other on trash.


River Rescue: Teams of River Rescue volunteers target smaller trash sites that are too small or remote for large scale clean-ups. This team meets twice a week and also has a smaller "strike team."This team is operating under COVID19 restrictions.
River Assessment Field Team (RAFT): This team is all about assessment! Along with a staff person, volunteers help scout for trash twice per week, recording the data in an app that we developed. Each assessment covers a different part of the River. In this way, we can document the entire focus area over several weeks.




RiverWatch: Volunteer leaders for this team coordinate groups for monthly water quality testing and nutrient monitoring at sample sites along the lower 20 miles of the River to track the effects of clean-up efforts and identify water quality issues.

VOLUNTEER NOW
Help us keep the River beautiful for the next generation.
Volunteer now »

STAY INFORMED
Sign up for our Newsletter and get up to date information.
Sign up today »