About The San Diego River Park Foundation
---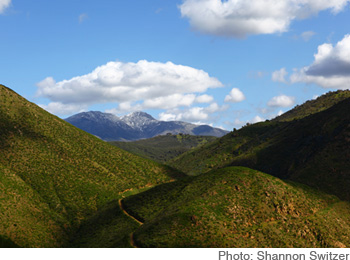 In 2000, the largest sewer spill in California's history dumped 34 million gallons of untreated sewage into the San Diego River. This spill ran for almost a week, while few people noticed or cared. Out of this tragedy, a group of concerned citizens formed the San Diego River Park Foundation on July 18, 2001.
Since this tragedy, the San Diego River Park Foundation has worked with the community to change San Diego's relationship to its namesake waterway. We remain a local, grassroots non-profit organization and we rely on donations, support from the community, and public and private grants for our work creating the San Diego River Park, connecting people to the River, and conserving local resources.

We are not a foundation built upon an endowment or other source of funding. We are a foundation in name because we are built on a foundation of people that have come together to create the San Diego River Park system from the mountains to the ocean.

We are working to achieve this goal by partnering with government agencies such as the San Diego River Conservancy, business and civic leaders, and a wide range of public organizations. By promoting stewardship of the River, facilitating a better understanding of the River's natural systems, and creating appropriate access to this incredible historic resource, the San Diego River Park Foundation is endeavoring to enhance the quality of life in San Diego.

We are dedicated to making the project a truly treasured regional asset that is valued by all members of our community. We welcome and encourage everyone who is interested to join us in this effort.


4891 Pacific Highway, Suite 114, San Diego, CA 92110
(619) 297-7380
Click here for information and directions to our office.

The San Diego River Park Foundation is a proud member of the following:



FRIENDS MATTER
Become a Friend of the San Diego River Park Foundation and invest in the future of the River.
Learn more »

STAY INFORMED
Sign up for our free Newsletter and get up to date information.
Sign up today »