Cool River Program
Engaging Youth in Protecting San Diego River Wildlife
---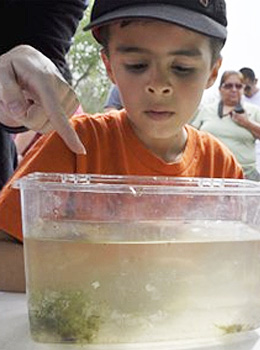 The San Diego River is teeming with life, ranging from microscopic algae to 4 foot tall blue herons! These critters can tell us a lot about the health of the River!

You can help our scientists as they explore and study the health of the River by conducting bio-assessments (which means inspect the living things in the River).

Through our Cool River Program, we invite young scientists (targeted to ages K-8) to join us! Use scientific tools to look at real "River Bugs," follow Gil the fish in a simulated journey down the watershed, and explore the San Diego River with a guide.

Your gift can make this expereince possible for a San Diego student!
Support this program by donating bus transportation to allow students to experience these field experience at no cost! Your donation of $220 allows up to 60 students to participate in a free program! Click here to donate.

Join Us!
If you would like to learn more about how to get your classroom, scout troup, youth group or family involved in an education activity along the River, please contact our Education Coordinator by email or by calling (619) 297-7380.

DONATE NOW
Make a difference In the lives of others.
Donate now »

VOLUNTEER NOW
Help us keep the River beautiful for the next generation.
Volunteer now »