River Park Enhancement
Beautifying the River Park and Trail System
---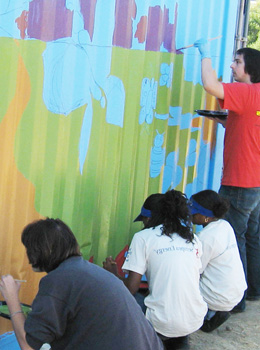 Removing trash and invasive plants is an important part of keeping the San Diego River clean and healthy. But just as important are enhancement and beautification projects, such as murals, signage, demonstration areas and pocket parks!
When you explore the River, you will see these beautification elements up and down the San Diego River Park and Trail system.
Some of these projects are even done by volunteers! We have completed 6 murals along the San Diego River Trail with the help of volunteers and groups! To learn more about our mural projects, click
here
.

VOLUNTEER NOW
Help us keep the River beautiful for the next generation.
Volunteer now »

STAY INFORMED
Sign up for our Newsletter and get up to date information.
Sign up today »