Connect. Create. Conserve.
---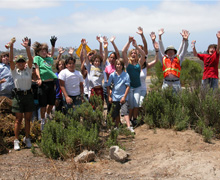 The San Diego River Park Foundation is dedicated to improving the health of the San Diego River and creating a better quality of life for our community through the creation of a 52 mile river-long park system. Our programs, projects, and events are designed to connect people to our historic San Diego River and empower the community to steward and celebrate it.
We work to create opportunities for emotional connections to the River, fostering a sense of wonder,  a lifelong love of the outdoors, and stewardship of the River. We do this by hosting special River events, bringing children outdoors, engaging the community, working with volunteers, and more.  We specialize in site-based, experiential natural science education, especially for K - 8 students.
We work to create the river-long San Diego River Park and trail system, an emerald ribbon strung with pristine open space, welcoming and safe trails, interpretive facilities, vibrant history, and thriving wildlife for the community to experience and enjoy. We do this through targeted land acquisitions, collaboration, special projects, and other efforts. We collaborate with a variety partners, including by serving as the founder and chair organization of the
San Diego River Coalition
.
We work to conserve and restore our local environment along the San Diego River and its tributaries. We do this through volunteer stewardship programs, land management, monitoring and research. We also acquire and conserve lands in the source waters for the health of the River, tributaries and associated ecosystems. We believe that the San Diego River's ecological, cultural and recreational resources can be maintained for future generations through long-term conservation of the land, water, and wildlife.

FRIENDS MATTER
Become a Friend of the San Diego River Park Foundation and invest in the future of the River.
Learn more »

VOLUNTEER NOW
Help us keep the River beautiful for the next generation.
Volunteer now »