River Rescue
Weekday River Cleanup Volunteer Team
---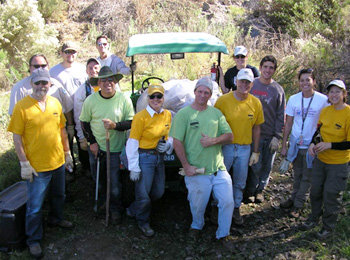 The River Rescuers are a fun group of dedicated volunteers! This group of repeat volunteers currently meet on Wednesday and Saturday mornings. They support the Clean and Green Team by doing pre-event and post-event site visits, removing trash sites that are not suited for a large community clean-up or too difficult to reach. They are a small but mighty team!

If you have spare time on Wednesdays and or Saturdays, are interested in meeting a great group of people, and want to make a difference for the River, then this may be the opportunity for you!

Each week, volunteers meet in a different location to remove targeted trash issues. Come prepared to get your hands dirty and work hard, but plenty of laughs along the way with this great team! The team meets at different locations each week, from 9-noon on Wednesdays and Saturdays.
Volunteers must be 18 and up, and this program usually does not qualify for volunteer hour verification. Volunteers often work in environments impacted by homeless encampments, removing trash left behind when encampments are abandoned.

Click here for more information about joining the River Rescue team.

Check out this video for information about the River Rescuers!

VOLUNTEER NOW
Help us keep the River beautiful for the next generation.
Volunteer now »

STAY INFORMED
Sign up for our Newsletter and get up to date information.
Sign up today »