Wildlife Camera Program - Critter Cam
Oct. 15th Deadline: double the impact of your gift!
$3000 Challenge Met Ahead of October 15th deadline!
Your support sustains this vital program

Bobcat documented by a Critter Cam


With your gift today, Critter Cam can continue collecting wonderful images to share and to help inform actions to protect at-risk wildlife!
By reaching the goal more than half of the annual costs of the Critter Cam program has been raised! Additional donations will help support it for even longer!
Your gift of $10, $20, $50 or more will go a long way in helping wildlife!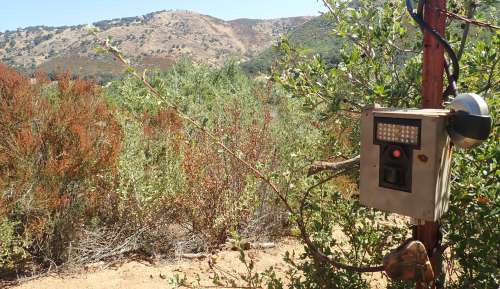 Camera positioned along a known game trail
The Critter Cam program conducts research in remote areas to help guide our land conservation efforts. In the above photo, you see one of our cameras in action. The cameras are managed by a staff scientist in partnership with an amazing group of dedicated volunteers. .
Critter Cam has 2 Primary Goals:

Identify key properties for conservation
Assist with preserve management activities

By setting cameras on lands owned by The San Diego River Park Foundation we can better understand where animals, especially large mammals, move. This helps advance understanding of the range of these animals as well as the wildlife corridors they move through. This knowledge guides conservation actions these critters need.

Critter Cam informs our Land Acquisition program. If we identify an area as important for wildlife, we work to purchase privately owned open spaces in that area that are up for sale for development.
In addition, once we acquire a property by knowing how and when animals move we can adjust recreation and land management activities to protect these amazing critters. We work to remove barriers to movement such as old unused cattle fencing and focus restoration areas to provide "cover" for wildlife to move through.

To date we have recorded 1000s of critters including cougar, badger, deer, fox, and bobcat. In 2020 we documented our first ring tailed cat!


RECENT NEWS:
One of the critter cams recently documented a wild pig. Wild pigs are extremely destructive for an ecosystem. Our image was shared with USFS, CDFW and others so they can take needed management activities.
CAMERA SPONSORSHIP OPPORTUNITIES:

$200 One Year Camera Sponsorship or $20 per month - 1 Available

Sponsor a wildlife camera for one year. You will be invited by the Camera Team to join them as they hike to your camera. If you prefer, you can join in on the hike by ZOOM, meet program staff and see a wildlife camera.
Sponsors also receive special photos that your camera has taken directly from the program staff.
Note: the current available sponsorshio is in a remote place without cell coverage. So ZOOM isn't availabe, but you will be able to "ZOOM" in to a nearby camera.

The Camera Crew goes to the camera on a regular basis to download images. It can be a thrilling opportunity to see the photos first and you are invited to join. Most camera locations require hiking on remote trails. If you prefer, let us know and we can see if a camera is available with easier access. Use the PayPal button and enter a $200 donation or sign-up for a $20 per month gift. Other giving options are also available.


Do you want to make a difference for wildlife?

Your donation of $10 or more to support the Critter Cam Program is greatly appreciated



PROGRAM DETAILS:
Currently we have 8 cameras deployed in open spaces within the upper San Diego River Watershed.


There are 3 cameras that are cell-ready. They use a cell phone signal to send us images as they come in. By receiving photos several times each day we know right away about wildlife movement as well as issues such as trespassing. We share the best photos with our Facebook Group as well as wildlife agencies and researchers. It can be lots of fun to see these images as they come in. We need to go to the cameras on a regular basis to maintain them and to recover higher quality images.
There are 5 other cameras, that aren't cell-ready. Our amazing Critter Cam team visits these cameras to recover images and conduct maintenance activities on a frequent basis.
We would love to add 2 new cameras as resources are available so we can convert some of our cameras to cell-ready. (not all areas have sufficient cell coverage to support this activity). We also need to replace cameras as they are damaged, stolen, or even shot by hunters. Our current goal is to have 10 active cameras. Each camera along with solar panel (when appropriate), security devices and installation costs $1000.

If you are interested in helping to expand the number of cameras, please let us know!

Other Donation Options:
Mail a check to:
The San Diego River Park Foundation
PO Box 80126
San Diego, CA 92138
Please indicate in memo: Critter Cam

By Phone: call our office at 619-297-7380 Tuesday - Friday 9 - Noon,and we can take your credit card information over the phone and answer questions. For other times, please leave a message and we will call you back.


We will send you a donation receipt for your records (please provide email or mailing address). Thank you!

Special thanks to our Program Sponsor:
Chip Owen

From the earliest days, Chip has been an incredible supporter of this program! Thanks Chip! Do you have questions about our wildlife cameras program?
Contact Natalie, by email

Current Camera Annual Sponsors:
Anonymous
Everett and LaVerne Neuman (2)
Vickie Church (2)
Hiroko Tsuyuki
Jake Sibley


RECENT NEW CRITTER CAMS MADE POSSIBLE BY:
Jake Sibley
Richard Ledford

Volunteering

Interested in volunteering on the camera team? We are currently looking for two people to join the team. You can be the first to see the photos! Or volunteer to help sort through the hundreds of images.

Contact us for more information by email or by calling (619) 297-7380.
Recent Photos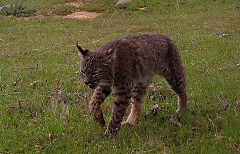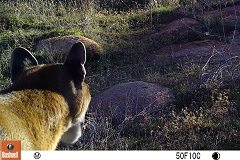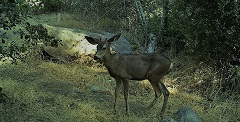 Provided by CoolFundraisingIdeas.net

Thank You
to all who have donated!


Christna Yard
Rory Townsley
Patricia McGee
Victoria Tade
Shankar Shivappa
Mark Berninger
Los California LLC
Lara Gates
JoAnne Hutsel
R. Greene & Associates Inc.
Allan Fisher
Sandra Schwarzmann
Mary Rogers
Nathan Weflen
Jennifer Martin
Angel Riggins
Heide Pedersen
JR Fox
Katie Borton
Ann & Michael Sixtus
Kathy Sheets
Karen Duburguet
Stephanie Wilde
Kathleen Cudahy
Rita-Maria Kafalas-May
Rae Newman
Michael Gardner
David Boucher
Natalie Gude
Lindy Harshberger
Susan Valle
Brett Laff
Carlos Richardson
Jeanne Brown
Leslie LaForest
Sophia Frost
Monique Falucho
Marcie Mason
Paula Pease
William Marsh
Patricia Ray
John Zarem
Cindy Scheevel
Mary Ann Hawke
Carolyn Barkow
Charles Sykes
Jacqueline Bergseid
Vickie Church
Pamela Williams
Patricia Moses
Elizabeth Devin
Patrick McEvoy
Cindy Burrascano
Paula Meyer
Jean Molentin
Stephanie Ayerdis
Connie Vickers
Nancy Smith
Melissa Rose
Mysteri LeMay
Rob Hutsel
Chip Owen
Anonymous
Liz Doroski
Tom Wallace
Teresa Varnell


Updated: 10/14 3:45 PM

Please let us know of an errors, and we will gladly correct this list.
Thank you!