ALERT: Help Save Key Wildlife Area
Keystone Project - 2 South Rim Properties



These properties are in the vitally important South Rim Bridge Area where we have been striving to buy private property to create a safe wildlife area


You did it! The goal has been met!
Donations received above the goal will first be used for any additional acquisition expenses then placed in our Acquisition Fund for a future acquisition. Thank you!

Please consider a gift of $20, $50 or what you can
Donate with secure PayPal
Prefer not to use PayPal?

Other Ways to Donate:
Call 619-297-7380 to donate over phone
Venmo @sandiegoriver
Mail Check to:
The San Diego River Park Foundation
4891 Pacific Highway, Suite 114
San Diego, CA 92110
memo: Keystone Acquisition



---


Help Save the Beautiful Keystone Properties


Keystone Property Details: This map show how we have been working over many years to conserve this beautiful and ecologically important area. Home to rare Engelmann oaks, native grasslands and coastal sage scub vegetation communities where badger, cougar, gray fox and deer roam.
In the map the two properties are identified in red. You can see how we are working to connect SDRPF and National Forest lands to the north with National Forest lands to the south. The blue property is already in the process of being acquiring. The lands without a color overlay remain privately owned.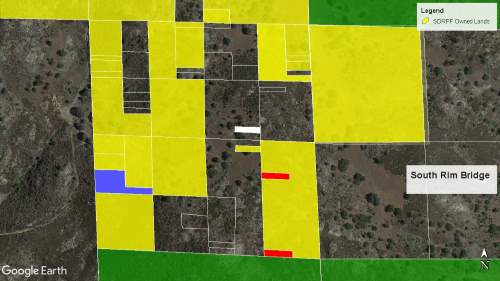 Location:
The property is located off Eagle Peak Road near Julian and Pine Hills.

CLICK HERE for Google Map for location



Over time we have been able to acquire and conserve dozens of properties in the South Rim area. We will continue to reach out to many private landowners building relationships so that if they decide to sell their open space we can act quickly. For this current acquisition, we have been working to reach a deal over several years. Finally, he agreed to sell! So now we have just 30 days to complete the purchase. Here is your chance to be part of conserving this very special place and provide wildlife a place to roam forever.


This acquisition provides open space for the following species and many more.

Wildlife documented at property. Cougars, bobcats and much more have been photographed through our Critter Cam wildlife camera network.
Your donation today is helping protect wild places for these amazing critters.
DONOR APPRECIATION
Friend of the South Rim
$5 - $99
Receive an invitation to a property dedication ceremony (virtual or in-person) and be listed on this website (if desired).

South Rim Defender
$100 - $499
Receive a South Rim 12 oz. Tumbler (must be picked up at event or at our office) plus Friend of the South Rim benefit.
South Rim Guardian
$500 - $999
Be recognized on a trailside bench to be located at or near the property (remote and along non-motorized trail). We will contact you to confirm the details and if you prefer we can place the plaque at Eagle Peak Ranch. Plus Friend of the South Rim benefits.

Conservation Society
$1000 and above:
Be recognized on the property dedication sign to be located at Eagle Peak Ranch plus plus the Friend of the South Rim Benefits. Invitation to join the River Park Foundation's Conservation Society for one year (or extension of one year if current member).

Conservation Society members are invited to a special event at Eagle Peak Ranch and we will be restarting our annual reception in 2024. In addition, you will receive occasional updates from our CEO with acquisition news and other information.

We encourage you to consider joining our River Wildlife Club by signing up for a monthly donation. It is convenient, easy, and provides the fuel to pursue other opportunities!
Learn More About the South Rim Conservation Effort

Video by
Jim Karnik Films
on Vimeo.
When we raise funds for a specific property acquisition, any donations received above the goal will be used first for unanticipated expenses. Once that is determined, remaining funds stay in our Acquisition Fund for the next project.
For more information on our acquisition program or other ways to get involved, contact our CEO Rob Hutsel
rhutsel@sandiegoriver.org
or call (619) 244-7024..

Thank You to the
Amazing Donors

---
$1000 and +
Rhea & Armin Kuhlman
Simon & Julie Andrews
Wildlife Club
Hervey Family Fund at the San Diego Foundation
Psomas - San Diego
Amy Schmitz & Jeff Pasek
$500 - $999

Bob Collins
Beth Callender
Mary Avriette
Gabriele Wienhausen
James Marich
Martha Senturia
BJ & Gary DeBusschere


$100 - $499
Ann Zahner
Steven Higgins
Joan Raphael
Cindy Pencek
Glenn Little
Brenda Senturia
Rick Gulley
Pao Diaz
Louise Streiff
Jeremy Tuler
Leslie Bruce
Gary Mitrovich
Julie Hocking & Jim Baross
Lindy Harshberger
Rick Manley
Vickie Church
Douglas Duncan
Pamela Miller
James Royle
Robert Spencer
Anneli Kyner
Wayne Seim
Fred Kramer
Pamela Cortelyou
Peg & David Engel
Alexandra Garmon
Molly Gee
Margaret Green
Mary Sue Lowery
Glenn Perelson
Jeannette Poling
Susan Quillman
Patricia Walsh
Lucas & Shannon Worthen
Neil Meyer
Carolisa Morgan
Rob Hutsel, Karen Begin and Alex
Up to $99

Marti Krane &
Creators' Rep
Kerri de Rosier
Judith Nicolaidis
Bill Hays
Susan Cardinal
Isabella Lopez-Powers
R. Greene & Associates, Inc.
Jake Loitherstein
Tom Leech
Christina Ivany
Scott Wahl
Judi Ravetti
Mathieu Gregoire
Chelsea Felbeck
Mari McManon
Richard Brouillette
Holly Gant
Kerri de Rosier
Jessica Friis
Susan Jones
Nathan Weflen
Jane Friedman
Harriet Herndon
Olivia Jomoc
Starr Pagharion
Maria Middlebrook
David Hoppe
Keith Larson
Cary Lowe & Trish Butler
Includes donations and pledges.

Final UPDATE:
8/29/2023

Please let us know of any errors in your listing so we can correct them.
Thanks!
619-297-7380


Donations are
tax-deductible as allowed by law.
EIN 01-0565671