Give Hope to Local Wildlife
Cougars, gray foxes, bobcats need you!
---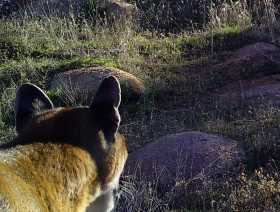 Local wildlife need help. Sadly, many of the places they live are under threat.
FACT: The Peninsular Range sub-population of cougars is considered unique.
FACT: Cougars need up to 150 square miles of habitat or more.

Cougars are key to the health of an ecosystem. If they don't have sufficient room, they are forced to live closer to where people live. It is estimated that 90 or fewer cougars are in this sub-population. Cougars love to be along rivers and creeks. They are at risk. In a current research project, 4 of 9 cougars have already died. They are at risk of being hit by vehicles, poisoned and even shot.
ACTION 1: We maintain a series of remote cameras to conduct our own studies and in collaboration with cougar researchers. Our photos help track these majestic critters.
ACTION 2: We purchase and permanently conserve key pieces of open space that are at risk of being developed. We focus on the upper San Diego River and on lands which expand large mammal habitat or defined corridors they move through. By expanding there habitat, they will be healthier and less at risk of being killed.
BENEFITS: cougars will be better able to adapt to our changing climate and to thrive. We have had several kittens born and be raised on our preserves.


Funds are raised to acquire property for cougars and other wildlife. Sometimes it takes just a few thousand dollars, sometimes a lot more. Your gift could be the difference.. Thanks to thousands of supporters, we have acquired more than 2100 acres of land to date! More needs to be done. We have set a goal of raising $20,000. This will enable us to contact owners and be ready if they want to sell their land. Then we will have time to raise the funds needed to complete the purchase. Typically this is an additional $10,000 - $50,000, sometimes it takes much more. With your support, we can proactively work to conserve these lands before it is too late. Thank you!
DONATE to acquire open space that is at-risk of being lost
with secure PayPal


Current Priority: South Rim Upper San Diego River Gorge
This is a remarkable area surrounded by the Cleveland National Forest. With multiple small parcels we have had to act several times when land becomes available for purchase. Our goal is simple - to keep it as wild open space.

Your gift of $10, $50, $100 or what you can will make a difference..

Located on the south side of the magnificent Upper San Diego River Gorge it is recognized as a biological treasure. A place where cougars, bobcats, gray foxes, badgers and other wildlife can thrive.

LEARN MORE ABOUT CURRENT ACQUISITION
Donate Now: Select a Method:
Online: Use the button above via secure PayPal.
Credit Card by Phone: Call us at (619) 297-7380 (M & F 9AM - 12PM) to make a donation or email cougars@sandiegoriver.org and we will call you.
Mail: Print form (PDF) and mail with a check, money order or credit card information.


Monthly Donation - Join the Wildlife Club

Wildlife Club members make automatic monthly donations through their credit card!
Your donation is used to acquire land for wildlife, especially large mammals like the cougar. Lands usually have other benefits, too!
This is a convenient and easy way of giving! For as little as the cost of a couple cups of coffee per month you can make a significant difference! You will be invited to all dedication celebrations and receive quarterly updates from our CEO.

Gifts can be stopped at anytime.
Monthly gifts start at just $8!

If you would like to make a monthly donation of a different amount or prefer not to use PayPal, please call us at 619-297-7380, and we can set it up!




Donate $1,000 or more and Join the Conservation Society

The Conservation Society is a select group of supporters who donate $1000 or more in a 12 month period (or $80 monthly donations). Funds are used for the current project or for the next acquisition. Each year, the Conservation Society receives invitations to at least 2 guided outings to recent and current projects specifically designed for you and a guest. You will also be invited to the annual Conservation Society Reception (on hold due to COVID-19).

You will be given the latest insider information to current acquisition projects with email announcements from the President and CEO and Co-Founder Rob Hutsel.

Call Rob Hutsel at (619) 244-7024 for additional information.


As a 501c3 nonprofit organization, your donation is also tax-deductible as allowed by law.
EIN 01-0565671