Thank You to Our Incredible Supporters!
---
The support of the community is essential to advancing the vision for a clean and healthy San Diego River which adds value to our region. In addition to individuals and families, these companies, agencies, organizations and foundations have lent their support and leadership in bringing this vision to reality. (This list is updated quarterly)
Business Partners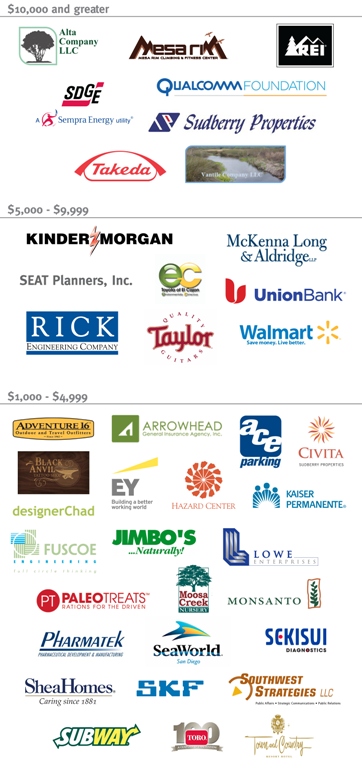 Additional Supporters
The Bishop's School
Claude A. and Johann S. Petty Foundation
Community Foundation of Northern Colorado
The City of San Diego Public Utilities
El Capitan Habitat Management Non-Endowment at The San Diego Foundation
The Hattie Ettinger Conservation Fund at The San Diego Foundation
Jerry and Jill Hall Charitable Fund at The San Diego Foundation
Karen, Rob and Alex Fund at The San Diego Foundation
MADCAPS
Marian and Walter Trevor, Jane Trevor Fetter and Thompson Fetter Fund
The Metropolitan Water District of Southern California
Mission Hills Garden Club
The Nature Conservancy
The Parker Foundation
Price Philanthropies Foundation
The Rice Family Foundation
San Diego Association of Governments
San Diego Kiwanis Club Foundation
The San Diego River Conservancy
Satterberg Foundation
S.L. Gimbel Foundation Advised Fund at The Community Foundation - Inland Southern California
The State of California Department of Water Resources
Szekely Family Foundation
The San Diego Foundation
Think Blue, the City of San Diego's Stormwater Pollution Prevention Program
Viejas Band of Kumeyaay Indians

STAY INFORMED
Sign up for our Newsletter and get up to date information.
Sign up today »

MEMBERS MATTER
Become a member of the San Diego River Park Foundation and invest in the future of the River.
Learn more »