Give A Tree - Support Restoring Key Open Spaces
---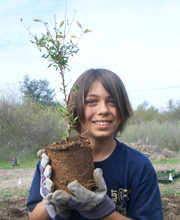 Trees play an invaluable role in keeping the River's ecoystem healthy and vibrant. They purify the air by taking in carbon dioxide and releasing oxygen, and can help to offset the carbon footprint of our region. They provide food, shelter, and refuge for our native fauna. Native trees, such as oak, sycamore, cottonwood, Jeffrey pine, and elderberry, have been an important element of the River's ecosystem for thousands of years, and continue to be a beneficial element today. Plus, they are beautiful!

Your $25 donation today will help plant one tree in an open space preserve.


$25: Support the Tree Fund.
This makes a wonderful gift! For gifts, we can send you or a gift recipient a card acknowledging the gift (it can take 7 -10 days to send the card, so please contact us if you need it sooner). Please make sure to include the name and address where you would like the card sent.
$200 Dedicated Tree - Click Here to Learn About Current Opportunities


There are many ways to give!
Online: Click "Pay Now" to donate online using PayPal.
Credit Card by Phone: Call us at (619) 297-7380 to make a donation over the phone using a credit card. Due to COVID, our office is open Tuesday and Friday 9 - Noon.
Mail: Download this form, check the box for "Other" and fill in Tree Fund. If you would like us to send a commemorative card acknowledging your gift (as described above), please make sure to include the mailing address and recipient name. You can mail the completed form with a check or money order to TSDRPF, P.O. Box 80126, San Diego, CA 92138.
Thank you TOYOTA OF EL CAJON for your support of planting trees! Every time someone buys a car at Toyota of El Cajon, they make a donation to support planting of a tree at one of the San Diego River Park Foundation's preserves or along the River.
Very Cool!

FRIENDS MATTER
Become a Friend of the San Diego River Park Foundation and invest in the future of the River.
Learn more »