100 Trees Initiative
Connecting 100 Kids With the Wonders of Trees
---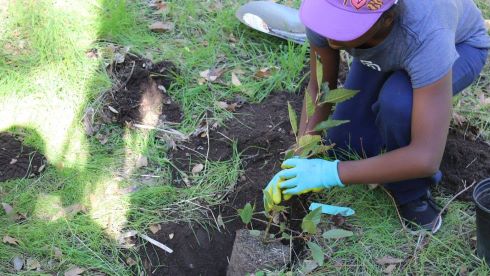 do you love trees?
With a donation of $35 you can provide a child with a special tree learning experience
Imagine a student learning about where trees come from and how an acorn becomes a tree.
Imagine that student nurturing this acorn until it is ready to plant. And along this journey they learn about the significance of our local, native trees: from mighty oaks to swaying willows, from sycamores to cottonwoods and other species.
Our Acorns to Classrooms provides this opportunity and more.

Students and their families are also invited to plant trees, too. Our goal is to provide this special opportunity to at least 100 students. With your support they can have this lifechanging experience.
There are many ways to donate
Online: Click "Donate Now" to donate online using PayPal.
Venmo your donation to @sandiegoriver
Credit Card by Phone: Call us at (619) 297-7380 to make a donation over the phone using a credit card
By Mail: Download this form or simply send us a check with 100 Trees in the memo.
.The San Diego River Park Foundation
4891 Pacific Highway, Suite 114
San Diego, CA 92110
All donations are tax deductable as provided by law. Our EIN is 01-0565671.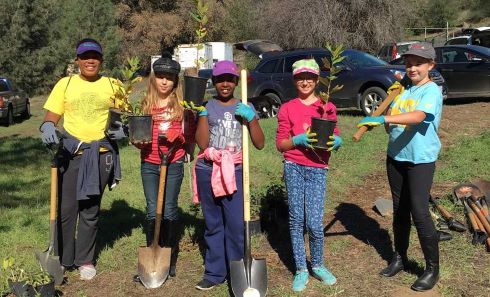 Our Tree Planting Program is sponsored by TOYOTA OF EL CAJON
Every time someone buys a car, Toyota of El Cajon will make a donation to support planting of a tree at one of the San Diego River Park Foundation's preserves or along the River. Thank you
Toyota of El Cajon
!

Do you have a favorite quote about trees?


Here are two of ours


"TREES EXHALE FOR US SO THAT WE CAN INHALE THEM TO STAY ALIVE. CAN WE EVER FORGET THAT? LET US LOVE TREES WITH EVERY BREATH WE TAKE UNTIL WE PERISH."
Chad Sugg



"THERE CAN BE NO PURPOSE MORE ENSPIRITING THAN TO BEGIN THE AGE OF RESTORATION, REWEAVING THE WONDROUS DIVERSITY OF LIFE THAT STILL SURROUNDS US."
EO Wilson