The Campaign for Eagle Peak Ranch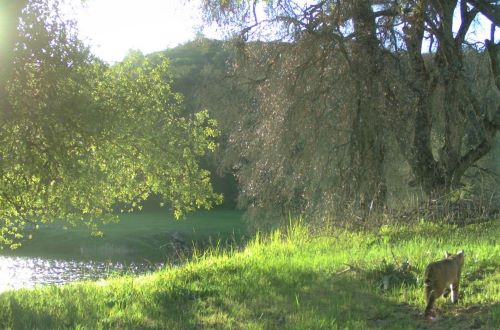 Bobcat enjoying a morning walk at the Ranch


The Campaign for Eagle Peak Ranch
$126,087 was needed by January 15th to make the final payment of a bridge loan taken from The Conservation Fund as part of the effort to acquire this property. On Jan. 16th, the funds were wired to TCF to make the payment! Thank you to all who donated! A couple of pledges are outstanding. If additional funds are received we will use them first if any pledges do not come through, and then they will be applied to a future land acquisition effort. Any additional Adopt An Acre donations will be placed in an endowment to pay annual expenses (insurance, etc.).
Eagle Peak Ranc
h is a wonderful valley which includes Temescal Creek. The original purchase was 299 acres. Several other purchases have been made for a total of 454 acres. The purchases were made to protect this incredible open space before it could be sold for development and several houses.


Adopt An Acre - Sold Out

3/9/2020. The last remaining acre available for "adoption" has been taken. Thank you!
Donations are still being accepted, however, the Adopt An Acre recognition is no longer available.
Your gift, after all accounting for the final payment is processed, will go into our River Wildlife Fund which supports land acquisitions.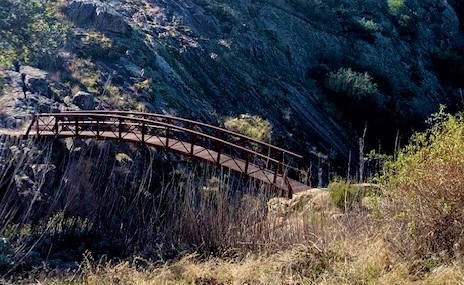 Temescal Creek Bridge in a stunning setting

Overview
When we first learned that the Ranch was available for purchase, it was being marketed as a potential site for several estate homes. We knew of the Ranch's incredible beauty as one of the few remaining largely intact valleys in the region. We also knew of the property's immense wildlife value. So we had to act fast. With lots of support, funds were raised to put a deposit down to put the property in escrow. We secured a loan of $807,000 from the Conservation Fund, a national nonprofit organization. An amazing community of people came together to raise the remaining funds neeed to complete the purchase. Over time we made a significant payment and continued to raise funds toward the loan.
Thank you to all who joined in this effort!
$126,087 was a great deal of money to raise. But with your support the funds have been pledged and donated!

All donors and our Wildlife Club will be invited to a planned April 18th Open House Celebration at Eagle Peak Ranch. Details will be sent to you.

Other Donation Options:

Donate by Credit Card by phone at 619-297-7380 (M - F 9AM - 5PM)
Donate by Check:
The San Diego River Park Foundation
PO Box 80126
San Diego, CA 92138
check memo: Eagle Peak Ranch

All donors will be recognized on this page (unless you prefer to remain anonymous).
As a 501c3 nonprofit all donations are most appreciated and tax-deductible as allowed by law. EIN 01-0565671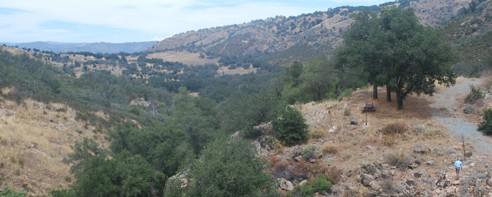 A view from one of the Ranch's vista points.

Location: on Eagle Peak Road and Boulder Creek Road
Click here for Google Map
* marks the property on the map below


Conservation and Recreation Values:
Cultural sites
Regional trail extension - hiking, equestrian and biking
Incredible views
Engelmann, Black, Live and other oak woodlands
Significan large mammal wildlife corridors & linkages
Cougar, badger, deer, bobcat, fox and other species

Natural springs
Creek restoration opportunities
Education Programs

Volunteer Opportunities:
Wildlife Camera Monitoring
Preserve Management
Trail Management Team
Outings Leader


Email us for more information about getting involved as a volunteer volunteer@sandiegoriver.org.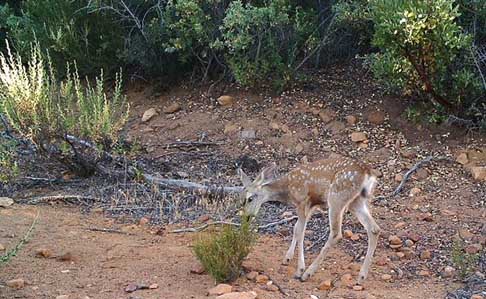 Each spring we can expect to see fawn and cubs at the Ranch. This fawn was captured at one of the Ranch's wildlife cameras.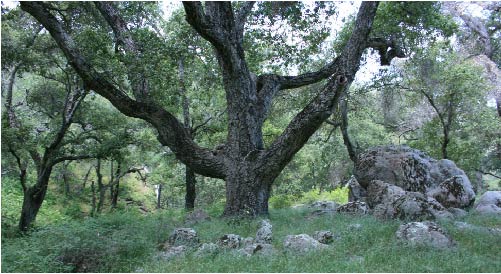 Beautiful live, Engelmann and black oaks are throughout the property.
Donation Recognition:

$2000 or more*
Prominent Recognition on Donor Recognition Sign


$1000 - $1999
Recognition on Donor Recognition Sign
All donors of $1000 or more to acquisition projects (cummulative within 12 month period) will be invited to Conservation Society special events

$500 - $999
Recognition on donor bench with plaque

All donors of $10 or more will be invited to a spring time open house celebration.

* Special opportunities can be created for a donation of $10,000 or more. Please contact Rob Hutsel, our CEO, to discuss opportunities. 619-297-7380 x108 or rob@sandiegoriver.org
If funds are raised in excess of the goal, after all expenses are accounted for, these funds would be reserved for a future land acquisition effort. Addional Adopt an Acre Donations will go into the Land Management Endowment at The San Diego Foundation. Donation received prior to 3/15/2020 will be recognized as part of this project. If you have any questions, please let us know. Thanks!

Thank You
Donors!
$1000 and above
Mesa Rim Climbing Centers
Bob Kain
Peter Thomas
Terry Gaughen in memory of Chet Nelson
James Oliver
Susan Hector &
Michael Sampson
Sally and Peter Nelson
Rob Hutsel, Karen Begin & Alexandra
Phil Pryde
Ann Ramirez in memory of Bobby A. Ramirez
James Oliver
Chip Owen
Julie Hocking &
Jim Baross
Alan Grant
Beth Bruton
Pat Grant
Ensie & Matthias Blume
Anonymous
Urban Arena, Inc.
Keith Mittemeyer
Hannah Pasek
Kevin Burns &
Kevin O'Neill
Geradus Kroon &
Maatje Scherpenisse
Robert Burkett &
Nga Nguyen
James & Rose Hall
Colleen Christensen
McGrath Family Foundation
Better Georgia Fund - In recognition of Jake Sibley's enthusiasm for the land conservation program

$500 - $999
Glenn Torbett
Christine Fenner
Ryan Gittens
Greer Family Trust
Anonymous
Frederick Ashcroft
Nancy L. Smith
Clint & Kim Williams Family
Simon Andrews
Elizabeth Guo
Second Wind Trail Running

$100 - $499
Norma & Dave Little
Anneli Kyner
Robin & Gerald Morris
Michelle Keeyes
Rita Bierman
Alexandra Garmon
Linda Fitts
Gary Marcus
Jim Royle, Jr.
Seim Family
Nora Smith
Bonnie Sipe
Cory Briggs
Elizabeth Richardson
Dan Tauber in memory of Rae Tauber
Ron Grant
Armin & Rhea Kuhlman
Patricia Rutledge in memory of Lucy Franck
Christine Justice
Frank Chaco
Glenn Little
Claude Petty &
Luis Mandujano
Roger & Gail Wynn
Olive Kerr
Robert McDowell
Stephen Haase
Mollie Martinek
Sue & Fred Driscoll
Susan Quillman
Joyce Karel
Everett Neuman
Jeremy Tuler
Terri Johnson
Mike Kelly / Kelly & Associates
Lois Yu
Jeanette Poling
Linda Espino
Glorene Franco
Ginger Baharder
Thomas Cottrell &
Anne Callies
Jim & Terri Varnell in honor of Paula Kroll
Saturnino Garcia
Charles Gyselbrecht
Brian Hartley
Cynthia Buchner
In memory of Eleanor Little
Anne Corrigan
Dawn Shaffer in honor of Sherry Barone &
Patricia Regan
Patrick O'Neil
Donald Endicott
Mark Stephens
Jerry Parker
Henk Overdevest
Fred Kramer in memory of Linda Kramer
Bari Zwirn
Suzi Harlow
Lisa Kiy
Mark St. John &
Craig Scott
In Memory of Barney Scott
Erin Young
Anonymous
Janet Gastil
Pierre La Plant
Scott Crellin - Cuyamaca 100k Endurance Run
Merrill Plou
George Kokke
Jiri & Chandra Myslin
Timothy Mackey
Les Vivian in Memory of Mary Byrne Hoffmann (1950 - 2019), who was oh-so grateful for the generosity of others to preserve natural places for future generations
Tracey Rivera in Memory of Paul K. Schadler
Naomi Ann Grant
Athena Kay
Douglas Coe
Gregory Schuett
The Richard M. Hills Family
Two Pugs: Joey and Ivan
John Duncan
Ted Sledzinski &
BJ Withall
Mysteri LeMay
Michael Menefee
John Randall
Michael Evans-Layng
Glenn Perelson
Lindy Harshberger
Nancylee & Steven Friedlander
La Verne & Everett Neuman
Nathaniel Adams Jr
Tynan Wyatt
Judi Ravetti
William Graham
Maureen Tabb
Diane Besemer
Nicole Burgess


$10 - $99
Mary Frost
Kathleen Murch
Lois & Lee Fetzer
JoAnne Hutsel
Frank Landis
Kathryn Burton
Douglas Scott &
Benjamin Baltic
Jean Buck
Robert Mathers
Betty & Steve Ball
Gary Stephany
John Boller
Jim Hutcheson
Suzanne Roth
Carolisa Morgan
Elizabeth Chamberlin
Nathan Weflen
Nik Hawks
John Hasse
Lynee Diamond
John Burke
Amanda Records
Virginia Uybungco
Susanne Mundt
Kenneth McIntyre
Michael McClintock
Natalie Brodie &
Brenna Ogg
Bev Bruff
Robert Keck
Michael Land
Lisa Radnovic
Kay Stewart
Sara Manyak
Jeffrey O"Connell
Mary Beth Lazarro
Kathleen Wheatley
Enrique Medina
Cary Lowe
Susan Cardinal
Robert Self
Marie Freitas
Keith Larson
Julia Rose
Marcia Gaudet in memory of Conrad Brennen
Judith Karlovsky
Judy Alvarez
Isaac Diaz
Philip Yeung
Jeff Mason
Marcie Mason
Rae Newman
Mary Parish
Susie Murphy
Keith Larson
Dennis Matuch
Barbara Franklin
Iris Siefert
Thomas Collins
Nathanael La Breche
Michael Lysik
Anonymous
Presentations Press
Pamela William for the Wildlife
Richard Van Sant
Marti Kranzberg
Michael Hender
Robert Hollingsworth
Gordon Hoard
Tom Wallace
Tripp Sprague
Lewis Michaelson
Greg Bishop
Judy Swink
Jodie Hulden
Dana McPherson
Alicia Bianchi
Linda & Edgar Canada
Deb & David Bond
Derek Bohon
Michelle van Oppen
Elise Obrien for Carolyn's Birthday!
Jay Rubin
Christopher Hatch
Ronald Swaisgood
Courtney Harmon
Scott Mocabee
Julie Stollenwerk
Alissa Gabriel



Thank you
Wildlife Club!!!

List includes pledges. Please let us know of any errors or omissions as we would love to have a correct listing! Thank you for your generous support.