Business and Group Volunteer Opportunities
Volunteer as a Team with Your Company, Club or Organization
---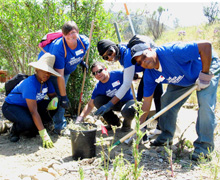 Please Note: As our organization monitors and adapts to the changing landscape of community gatherings during the COVID-19 pandemic, the safety of our volunteers is of critical importance. Accordingly, many of the volunteer events we have offered in the past have been significantly modified, and other activities have been temporarily suspended. The information below may have changed due to COVID-19.
Our program staff are working from home, so you can contact us by email with questions about volunteer opportunities.
We have also developed a list of Virtual Volunteer Opportunities that you can do from home!
---
We can work with you to customize an event for your business or group. Not only does volunteering as a team raise your group's profile, but it will also raise morale by doing something positive for the community. For more information about opportunities, scheduling options, and other questions about private events, contact us at
groups@sandiegoriver.org
.
We have many years of experience in working corporate, school, and volunteer groups facilitating team building or volunteer events designed to be fun, meaningful, and educational. We can organize events for 30 – 300 people. The following is just a sampling of groups who have participated in our efforts for a clean and healthy River and communitiy:
Nokia
Point Loma Presbyterian Church
San Diego Rotary Clubs
San Diego Gas & Electric Company
Qualcomm Inc.
Takeda California
University of Virginia Alumni Association
Marriott Hotels
We hope to work with your business or organization in the future!
If your organization is planning a visit or conference in San Diego, let us plan an event for you!

STAY INFORMED
Sign up for our Newsletter and get up to date information.
Sign up today »

FRIENDS MATTER
Become a Friend of the San Diego River Foundation and invest in the future of the River.
Learn more »