2019 GIVING TUESDAY
Be Part of A Global Day of Philanthropy!

---
Join with us on Giving Tuesday, a day set aside for a day of giving. After you #GetOutside on Friday, perhaps shopped on #SmallBusinessSaturday or #CyberMonday, you can join a global effort of people coming together for a day of giving.
Great news, the days started off strong, and we raised $5000 to secure a $5000 Giving Tuesday matching gift from a supporter.
Let's keep going! Our programs will benefit from your generosity!
Your gift will empower volunteers, continue to advance research and support needed projects.

Now more than ever, we would love for you to join with us on this day of giving.
Thank you!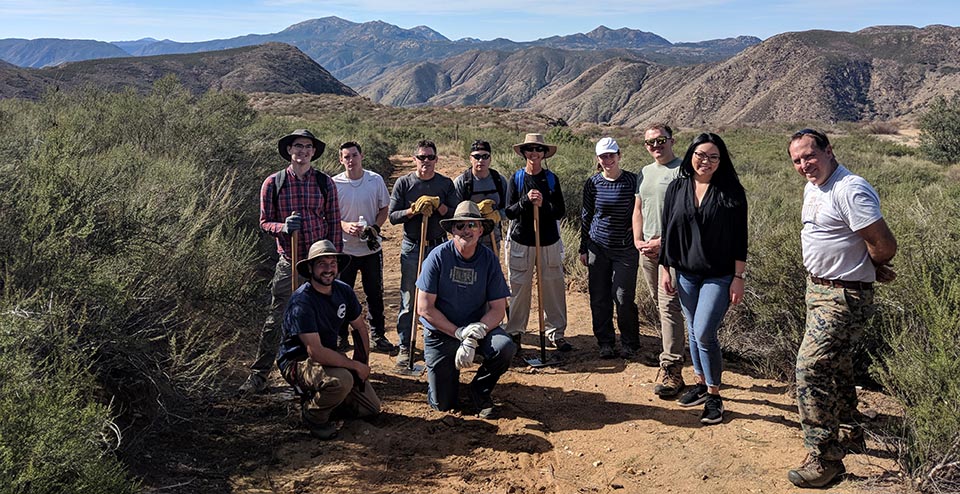 Your gift will support programs like our Preserve Stewards and Trail Team
Won't you join with us for Giving Tuesday?
Donate Online Through Secure PayPal. Click the button below.
Other Ways to Give

As a 501c3 nonprofit (EIN 01-0565671) we depend upon your generosity. Thank you for thinking about making a donation.

We are committed to our donors and do not trade, sell, or share your information.
Read our complete Donor Privacy Policy


---

If you are interested in volunteering with the Preserve Stewards or one of our other volunteer teams, please give us a call at 619-297-7380.


---



One of the Critter Cams captured this image at one of the Preserves. Our acquisition and monitoring programs are supported by our Annual Fund.


GIVING TUESDAY
SUPPORTERS


THANK YOU

Jerry and Paulette Begin
George Casey
Ian Neale
Shannon Quigley
Christina Arias
Patracia Ray
John O'Halloran
Phyllis Haines
Terri Bennett
Peter St. Clair
Katherine Gil
Waverly Ray
Carrie Huckell
Cecilia Padres
Beth Venkataraman
Lori Escalera, Design Etcetera
Jordan Voight
Martin Offenhauer
Robert Stafford
William Augustus
Mollie Martinek
Linda Espino
Cynthia Pencek
Geoffrey Smith
Michael Lysik
Ted & Julie Cramer
Rob Hutsel
C. Forte Company
Judi Ravetti
Christopher Hatch
Sabine Prather
Charlene Price in memory of Phillip Andrews
Mysteri LeMay
DeVerna Rogers
Nikki Eichberger
Mary Grant
Louis Gilleran
Stephanie Oba
Deborah Woodward
Lindy Harshberger
Alan Grant


for joining with us on
Giving Tuesday 2019!

If we missed your gift or made an error, please let us know so we can correct it. We will finalized this list on 12/10/2019
Thank you for the awesome support!