Become a Volunteer
Support Your San Diego River!
---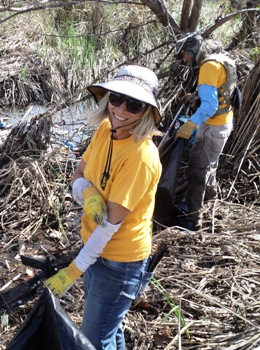 No matter your age or ability level, we have volunteer opoortunities for nearly everyone. Our volunteers play a very important role in advancing the River Park and its stewardship. There are individual and group projects available for river clean-ups, gardening, preserve managements, education programs, water quality monitoring, office work and more!
Volunteer & Event Calendar
Looking for a particular project or date? Click here to see calendar.
Ongoing Volunteer Opportunities
Are you interested in a more long-term volunteer project? Many of our programs offer opportunities for regular participation on an ongoing monthly or weekly basis, or even just a few times a year.
For more information about signing up for any of these activities, email volunteer@sandiegoriver.org or call (619) 297-7380.
Internships: We offer a range of internships through our programs, primarily for college students. Learn more about open internship positions.
River Rescue Team: If you're looking for camaraderie and hard work, join the fun team of River Rescuers with activities most Wednesday mornings.
River clean-up leader: The Clean and Green Team leaders are trained to lead groups of up to 20 volunteers to remove identified trash sites during ~monthly Saturday morning river clean-ups.
River Assessment Team: The Assessment Team volunteers walk to help complete weekly surveys of the San Diego River. Along with a staff person, volunteers will help scout for trash and other issues, mark the locations on maps for future clean-up.
Water quality monitoring team: Learn to use water quality monitoring technology at monthly events with our RiverWatch team.
Education docent: Engage with youth and the community at ~monthly events through our Cool River education program.
Park Watch: A great opportunity if you already enjoy walking the River Trail! Park Watch volunteers are needed for weekly monitoring of segments from the estuary to Santee.
Special event planning: Work with staff and volunteer committee to plan our Anniversary Celebration in September or River Days in May!
Front-desk receptionist: Be a part of our dynamic office by volunteering for a weekly 3-hour shift. Help with answering phones, emails, greeting guests and other administrative duties.
Video production: Create short simple videos for social media, or longer videos for fundraising and outreach.
Restoration project leader: Work with staff to lead small groups of volunteers in trailwork, planting, surveying, or other restoration activities on weekdays and weekends. Most work parties are ~3 hours.

Trail Team – Are you a hiker? Support outdoor recreation by assisting with trail building and maintenance at our preserves in the San Diego River Headwaters.
Do you have another special skill or passion for the River?

Call us at (619) 297-7380! We'd love to work with you.
Volunteer Leadership Training
If you are looking to grow your leadership skills or would like to lead other volunteers at our events, we invite you complete our volunteer leadership training. Offered several times a year, this program will give you the skills and knowledge to lead and inspire volunteers and arm you with talking points to raise awareness about The San Diego River Park Foundation.

For more information, or to learn about this year's training schedule, please contact DeVerna or call (619) 297-7380.
THE POWER OF VOLUNTEERS
Last year, River Park Foundation volunteers made a difference for the River!

pounds of trash removed
hours of service coordinated
volunteer events hosted
VOLUNTEER TODAY!

STAY INFORMED
Sign up for our Newsletter and get up to date information.
Sign up today »