San Diego River Park Foundation News and Updates
---

August 2017

Aerators to Be Installed in Mission Valley


This month, we begin work on a pilot project to test a method to improve levels of dissolved oxygen (DO) in the San Diego River in Mission Valley. Dissolved oxygen is essential for the survival of aquatic life. Oxygen is absorbed into the water from the air, particularly as water is mixed by flow. This happens naturally when rivers move swiftly or tumble over rocks. The San Diego River has lots of ponds and slow-moving water in the summer months, causing low DO and resulting in fish die-offs and bad smells.
Over the past few years, we have received many inquiries and even complaints about odors coming from the River, especially in Mission Valley. When the River is stagnant this odor can go from bad to much worse – smelling light rotten eggs or sulfur.  The "ponds," while nice looking, are actually created as part of a flood control effort.  When the River isn't flowing, this is actually groundwater from the large aquifer under Mission Valley.  At the bottom of the ponds are accumulated sediment, decayed matter and other items.  This contributes to the poor water quality that is experienced during the low flow conditions.
In the coming months, thanks to a grant from the State of California's San Diego River Conservancy Prop 1 Grant program ( http://sdrc.ca.gov/), if you look closely, you will see several small solar-powered aerators which we will be installing midstream in Mission Valley near Qualcomm Way. These small devices will create bubbling on the surface, introducing air and oxygen to the River, like a big version of the bubblers in an aquarium.  We are partnering with the US Bureau of Reclamation, San Diego State University, Urban Corps of San Diego and others to implement this project. Our volunteers will be monitoring the water quality in the River near the aerators and downstream to measure increases in DO, which would indicate a healthier system. These aerators will be removed before winter, when rains and higher water levels will naturally increase DO.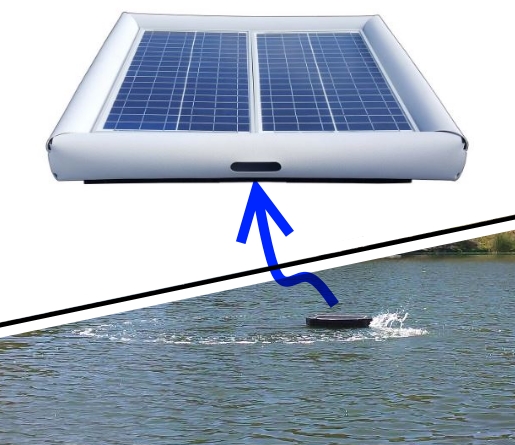 If successful, devices like these may be an option for improving dissolved oxygen levels at other sites along the River! We will be posting more information about this exciting project as it progressed. We will also host some guided tours so you can learn more.  We encourage get involved with this project by becoming a volunteer or with our water quality monitoring team. Contact Shannon@sandiegoriver.org to learn more.


July 2017


Help Shape the Future of the Riverwalk Golf Course
The owners of the golf course have announced their intentions to explore developing the golf course, and they have invited you to come share your ideas at a public workshop.
Date: July 25, 2017
Time: 6 -8PM
Location: Town and Country Resort, California Room

INFORMATION FLYER (PDF)




Meet Gary
SDRPF member & volunteer since 2003

Since 2003, Gary and Laqueta Strawn have been involved with many San Diego River Park Foundation programs, including RiverWatch, River Rescue and Clean & Green, habitat restoration, special events, Trout in the Classroom, and Santee Park Watch.

Gary is an active environmentalist, mentor, and community leader. In addition to his River Park Foundation involvement, he volunteers with the Santee Historical Society and the San Diego Fly Fishers Club, leads regular native plant gardening activities for special needs students, serves on the Regional Water Quality Control Board and works with the San Diego River Conservancy.

Why is he so involved? He enjoys working with the people who care about our San Diego River.  As he explains it, "The people you meet cleaning up the River or doing water sampling are good people. If they weren't, they wouldn't be doing it."

Since he first got involved, Gary has seen his local community take more ownership of the San Diego River. From the addition of new parks in Santee to the involvement of more volunteers to the reduction of trash in the river bed, Gary has seen that people, organizations, and governments can work together to make positive changes.

In addition to their valuable time and effort, Gary and Laqueta also donate to the San Diego River Park Foundation Annual Fund. As members of the San Diego River Park Foundation, they can help to support the programs that they're passionate about.  When asked about his volunteerism and membership, however, Gary is humble. "The River runs through the middle of town," he says, "it makes sense for me to be involved."

You can join Gary and Laqueta as a San Diego River Park Foundation member! Click here to learn how.

Do you have a story to share? We would love to hear from you! Contact Ally by email or by calling (619) 297-7380.
Dave and Melissa's Story
A little over a year ago, Dave was facing a conundrum.  As a passionate community member, he felt that it was essential to volunteer and pursued volunteer opportunities all over San Diego County, but he wasn't feeling energized by the work he was asked to do.  While Dave knew that his volunteer tasks were meaningful, he had trouble seeing the impact of all his donated time and energy.  Until he met the River Park Foundation clean-up teams!
On June 6th, 2015, Dave participated in a San Diego River Park Foundation Clean and Green event.  He and 47 volunteers removed over 2,500 lbs of trash from the Forester Creek, a major tributary of the San Diego River.  Dave enjoyed the hard work and instant results of the volunteer outing and he quickly joined our River Rescue team, a small group of regular volunteers that tackles the most difficult to reach trash sites along the San Diego River.  Dave was excited by these inspiring, hardworking volunteers who seemed to enjoy the challenge of clearing heavy, difficult-to-remove debris from along the San Diego River.
At home, Dave's wife Melissa could sense that something had changed.  Dave eagerly prepped his supplies weekly for each River Rescue adventure (insider tip from Dave: store frozen water bottles in your backpack to help keep cool) and closely read all of the River Rescue team emails as well as San Diego River Park Foundation e-newsletters.
Eventually, after months of listening to stories of bushwhacking and garbage-fighting, Melissa decided to attend a River Rescue volunteer opportunity for herself.  She was shocked to see the amount of garbage, including crumpled porta-potties, soggy mattresses, and rusted bike frames, piled along the banks of the San Diego River.  Though the trash removal work was challenging, Melissa was also energized by River Rescue.  "The most difficult tasks," she later explained, "are often the most important."
Today, Dave and Melissa are active River Rescuers, donors, and Legacy Society members.  They enjoy the collaborative nature of San Diego River Park Foundation projects, from working in the hot sun with their fellow volunteers to donating together with hundreds of community members to help conserve open space.  During a recent Save the Source land acquisition campaign, Dave closely followed the fundraising progress online as more and more donors contributed to conserve part of the Temescal Valley in the Upper San Diego River Gorge, and was proud to be part of that community of donors.
Dave and Melissa believe that "people and animals deserve to live in healthy places with clean water" and they have seen firsthand that San Diego River Park Foundation programs help to keep the river clean.  By supporting Save the Source and Healthy River, Healthy Communities programs and by including the San Diego River Park Foundation in their will, Dave and Melissa feel they are saving beautiful, natural places for the next generation.  "No matter how you contribute," Melissa explains, "everyone has a responsibility to take care of the environment."
Do you have a story to share?  We would love to hear from you!  Contact Ally by email or by calling (619) 297-7380. 
Meet Jeri

Conserving and Understanding the Headwaters

In April, volunteer and Save the Source donor Jeri Koltun joined us for a Stream Assessment of Cedar Creek. Jeri is an avid hiker who saw the volunteer outing as an opportunity to explore the headwater lands that she has donated to help acquire and conserve.

Jeri and her fellow volunteers spent a day scrambling along Cedar Creek, where they glimpsed red diamond rattlesnakes, two-striped garter snakes, California chorus frogs, deer mice, cliff swallows, insects, and tadpoles, as well as deer, bobcat, coyote, and fox scat. They recorded wildlife sightings and evidence, native plant species, invasives, erosion conditions, and cultural resources along the stream. The information that they collected will help the River Park Foundation to tell the story of the creek, document the resources and challenges of the area, and create management plans for the land.

As a San Diego native, Jeri felt a great sense of pride seeing the wild parts of the San Diego River and working with the San Diego River Park Foundation to help preserve these open lands. "I'm proud to be involved," she explained. "This is where I'm from. This is where my family is from. I feel more of a connection to the River now. When I see it, I think about all the life that the River supports and all of the ecosystems that exist along its whole length."

Jeri believes that anyone can help support the San Diego River Park Foundation by donating or volunteering. She would like to see the San Diego River's wild headwaters conserved and feels that the addition of a river-long trail will help more people from all walks of life to have access to the local resource. "Every time you visit," she says, "you will see something different, special, and unique." Jeri is a member of our Conservation Society.

If you would like to learn more about supporting the River Park Foundation's Conservation Program, CLICK HERE.
---
The Future of Qualcomm Stadium

For many years, like many people in San Diego, the San Diego River Park Foundation has thought about the future of Qualcomm Stadium. We have also been involved in many discussions with Community Planning Groups, elected officials, planners and others about what might happen if the site was redeveloped.
The San Diego River is the southern boundary of this 166 acre site. The River is also very constrained in this area and needs help.
Recently, Rob Hutsel, our co-founder and Executive Director, was invited to participate in some of the current ongoing planning efforts. He has also participated in several news shows and press conferences. "We have been fairly consistent over the past decade in our vision for any redevelopment of this site." Thanks to the more than 25,000 supporters and followers of the River Park Foundation, we have been given an opportunity to have a voice in this process. As we work to continue to grow our support base, our voice will only get louder and stronger.


CORE PLANNING ELEMENTS


The River:

Any redevelopment of the site should help to heal the River. This would include creating a 100 foot buffer along the River's edge to provide what is considered "upland" habitat. There is incredible opportunity to provide this space for wildlife and the ecoystem. It is a place where the River transitions to the built environment and it is essential. Total = up to 10 acres.


The Public Trail Corridor:

The City of San Diego's River Park Master Plan calls for a minimum 35 foot wide greenbelt for the regional SD River Trail. We believe that along the Stadium, it needs to be wider to accomodate more people. Therefore, we have advocated for a corridor which has a minimum width of 50 feet. In discussions, it has been suggested that this should be expanded to 100 feet to accommodate urban runoff treatment and potentially the ongoing flooding issues. This area will also serve as park space for people in the nearby community as well as River Trail users. It could provide an urban garden or farm, water education site, pond tied to water treatment, amphitheatre or other space to meet the needs of community. Total = 4 - 8 acres.


Murphy Canyon Creek and Flooding:

For many years, this Creek has had ongoing sediment and flooding issues. Right now, the Creek has been encapsulated in an artificial drainage channel. It isn't good for the Creek or the River. The current design forces the Creek along the eastern perimeter of the parking lot so that it enters the River at a right angle. On a regular basis, the Creek breaks free and ends up flooding the existing parking area. Therefore, we have proposed that at some point along its course, the Creek be re-engineered to have a more natural flow and entry point into the River. This is where the Creek wants to be. This could also add a nice stream element to a neighborhood park or incorporated into the public space within the redevelopment. Enhancements all along the creek should be made. Total = 2 acres.


Parks - Meeting the Needs of the Community:

There are limited parks to serve the approximately 20,000 people that currently live in Mission Valley as well as surrounding communities. The River Park Master Plan and the Mission Valley Community Plan calls for this problem to be addressed, at least partially, at the Stadium. The River Park Foundation has been told that the community needs at least 50 acres of parks to bring it up to standard. Much of this should be at the Stadium. Therefore, the River Park Foundation's position is that at least 30 acres of primarily active park land should be incorporated into any future plan. We have proposed that 3.5 acres be dedicated to a neighborhood park in the south east corner of the parking lot to be incorporated into the redesign of Murphy Canyon Creek. By City of San Diego standards, a neighborhood park is a minimum 3 acres in size and serves 5,000 people within 1 mile. It can be walk or ride up, so the corner is a good location to serve the residents on east side of I-15. A Community Park with active playing surfaces which could support many different sporting activities and events. According to City Standards, the minimum size is 13 acres for a Community Park. 10 Acres needs to be also provided to accomodate the future needs of the Grantville neighborhood and 20 acres is needed to meet the existing needs of Mission Valley. TOTAL = 30 acres
The River Park - Creating Something Very Special:
One of the centrail features of the open space at the current Stadium site should be a celebration of the San Diego River. If done well it can provide the spirit energy of the park. It can be the focal point and a much needed green oasis in a growing community. A destination for people throughout San Diego and its many visitors. Water should be a central feature to provide a place where people can "touch" the River. A place for a nature escape perhaps or event a chance to see deer running along the River. Total = 15 acres minimum


Total Acres: 59 - 65 Acres min.

The benefit of removing about 60 acres of impervious surface and replacing it with a permeable will help the River considerably. It will also help water re-charge the large aquifer which is currently under the Stadium parking lot. Much of it could be designed so if needed the River could flood into it to reduce flooding elsewhere in Mission Valley. Imagine anytime it rains, how this would be a benefit.
.
Final Thoughts:

Intentionally, we haven't gotten into the issue of the finances of a new Stadium or sports complex. We do believe that if it does makes sense finacially, it can be a great benefit for the River. Why? Because a project of this scale could in a very short period of time transform a community and region's relationship to the River. The Stadium and adjacent City owned lands, cover nearly 1 mile of the River. We believe that it makes sense to collaborate with all partners so that if a new public facility is built, the River is celebrated and embraced in the process. We also believe the project can greatly benefit from a river-oriented design. This is an incredible opportunity to do something big for the River and for the people of San Diego.
We invite your comments, ideas and involvement. What are your thoughts on this?
Email our CEO and Co-Founder, Rob Hutsel at rob@sandiegoriver.org



MEMBERS MATTER
Become a member of the San Diego River Park Foundation and invest in the future of the River.
Learn more »

STAY INFORMED
Sign up for our free Newsletter and get up to date information.
Sign up today »