Wildlife Camera Program
Conserving the Upper Reaches of the Watershed by Documenting Wildlife
---

Protecting wildlife corridors is a central goal of our Save the Source land acquisition program. As habitat spaces diminish, these corridors leverage different open spaces by allowing wildlife to freely move between larger tracts of land within the watershed and in neighboring watersheds.
We monitor wildlife movement using motion-activated wildlife cameras to capture images of the many different species that walk past our camera.
We have more information (plus adorable baby animals) on our blog!
Click the image below to learn more!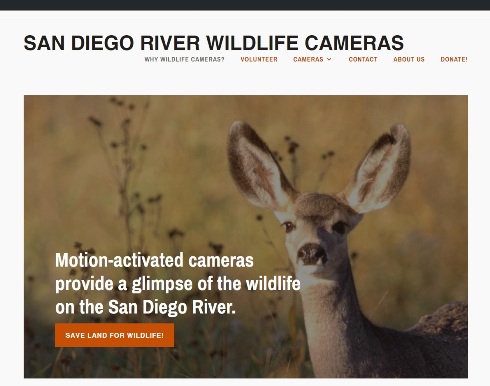 Do you have questions about our wildlife cameras program? Contact our River Ecosystem Manager by email or by calling (619) 297-7380.
Interesting in volunteering on our camera team? You can be the first to see the photos we capture by volunteering help download and sort photos. Contact us for more information by email or by calling (619) 297-7380.

VOLUNTEER NOW
Help us keep the River beautiful for the next generation.
Volunteer now »

DONATE NOW
Make a difference In the lives of others.
Donate now »