15th Anniversary Party!
Celebrate the Year's Successes in Conservation, Engagement and Education
---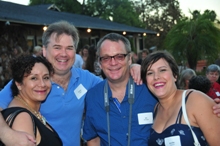 Annual members and supporters as well as your guests are invited to join us for the 15th Anniversary Celebration of the San Diego River Park Foundation and the San Diego River Coalition!

This year's festivities:
September 22, 2016 from 6-9 pm
Town and Country Resort
500 Hotel Circle North
San Diego, CA 92108
Please note parking directions to utilize hosted (FREE) parking!
An awards ceremony will begin at 7 pm, where we will name our Volunteer of the Year, Legislator of the Year, Business Partner of the Year and present our Founders Award. Join us for food, drink, fun, and live music, plus a fantastic silent auction! Casual or business attire suggested. Suggested donation $10 cash, check, or credit card at the door.

What a great response! We've filled up for our 15th Anniversary Party, but to accommodate a few more... We just ordered a little more food and drink to open up 25 more spaces.
To RSVP, call us at (619) 297-7380.
Thank you to our generous sponsors!
We look forward to tasty beverages generously provided by:
2016 Sponsorship opportunities are available (starting at $500)
Please contact Ally for more information
by email or at (619) 297-7380.

MEMBERS MATTER
Become a member of the San Diego River Park Foundation and invest in the future of the River.
Learn more »

DONATE NOW
Make a difference In the lives of others.
Donate now »